The Centre for Advanced Migration Studies (AMIS) is an interdisciplinary forum for migration research.
New Publication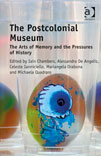 Petersen, Anne Ring, "Mining the Museum in an Age of Migration", in The Postcolonial Museum: The Arts of Memory and the Pressures of History, Iain Chambers, Alessandra De Angelis, Celeste Ianniciello, Mariangela Orabona and Michaela Quadraro (eds), Farnham: Ashgate 2014: 125-136.
IMISCOE

AMIS is a member of IMISCOE, the largest migration research network in Europe. Read more about IMISCOE here.
New Master of Arts (MA)
AMIS presents: The all new Master of Arts (MA) in Advanced Migration Studies.
The two-year master's degree programme incorporates the core research themes of AMIS and will provide students with a comprehensive understanding of the possibilities and challenges presented by international migration.
More information can be found here.
2014 NMR conference
AMIS hosts the 2014 Nordic Migration Conference. 1st of June 2014: Early Bird Registration Deadline.