The Centre for Advanced Migration Studies (AMIS) is an interdisciplinary forum for migration research.
New Publication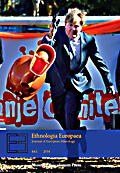 Nielsen, N. J. and M. Sandberg 2014. Between social dumping and social protection: The challenge of creating 'orderly working conditions' among Polish circular migrants in the Copenhagen area, Denmark. In : Ethnologia Europaea: Journal for European Ethnology. 44, 1, p. 23-37.
IMISCOE

AMIS is a member of IMISCOE, the largest migration research network in Europe. Read more about IMISCOE here.
New Master of Arts (MA)
AMIS presents: The all new Master of Arts (MA) in Advanced Migration Studies.
The two-year master's degree programme incorporates the core research themes of AMIS and will provide students with a comprehensive understanding of the possibilities and challenges presented by international migration.
More information can be found here.