The Centre for Advanced Migration Studies (AMIS) is an interdisciplinary forum for migration research.
New publication 2015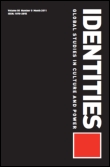 Sandberg, Marie (2015). Restructuring locality: practice, identity and place-making on the German-Polish border: Special issue ed. by Nina Glick Schiller and Garbi Schmidt. Identities - Global Studies in Culture and power.
IMISCOE

AMIS is a member of IMISCOE, the largest migration research network in Europe. Read more about IMISCOE here.
Master of Arts (MA)
Master of Arts (MA) in Advanced Migration Studies.
The two-year master's degree program incorporates the core research themes of AMIS and will provide students with a comprehensive understanding of the possibilities and challenges presented by international migration.
AMIS on Facebook