Book Launch: Immigrants on Grindr: Race, Sexuality and Belonging Online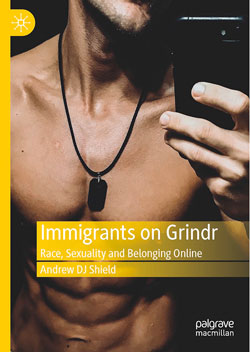 Presentation by Assistant Professor Andrew Shield, Institute for History, Leiden University. Introduction by Marie Sandberg, AMIS, University of Copenhagen.
About the book
This book examines the role of hook-up apps in the lives of gay, bi, trans, and queer immigrants and refugees, and how the online culture of these platforms promotes belonging or exclusion. Within the context of the so-called European refugee crisis, this research focuses on the experiences of immigrants from especially Muslim-majority countries to the greater Copenhagen area, a region known for both its progressive ideologies and its anti-immigrant practices. Grindr and similar platforms connect newcomers with not only dates and sex, but also friends, roommates and other logistical contacts. But these socio-sexual platforms also become spaces of racialization and othering. Weaving together analyses of real Grindr profile texts, immigrant narratives, political rhetoric, and popular media, Immigrants on Grindr provides an in-depth look at the complex interplay between online and offline cultures, and between technology and society.
According to critics, the book makes "significant contributions to debates about homonationalism, sexual racism, and the role of hook-up apps in shaping contemporary socio-sexual relations" (Prof. Gavin Brown) by giving "voice to gay and queer migrants and the racism they face daily" (Dr. Sharif Mowlabocus). "With theoretical elegance and ethnographic empathy" (Dr. Jonathan Corpus Ong), the book "masterfully interweaves studies of digital media, migration, sexuality, and race and ethnicity" (Dr. Nicholas Boston).
AMIS will serve coffee, tea and cookies during the book launch.